Skip to content
Register as our member can enjoy shopping points and exclusive shopping offers in the future. Free Hong Kong local SF Express shipping for single order purchase over HKD500 on our website.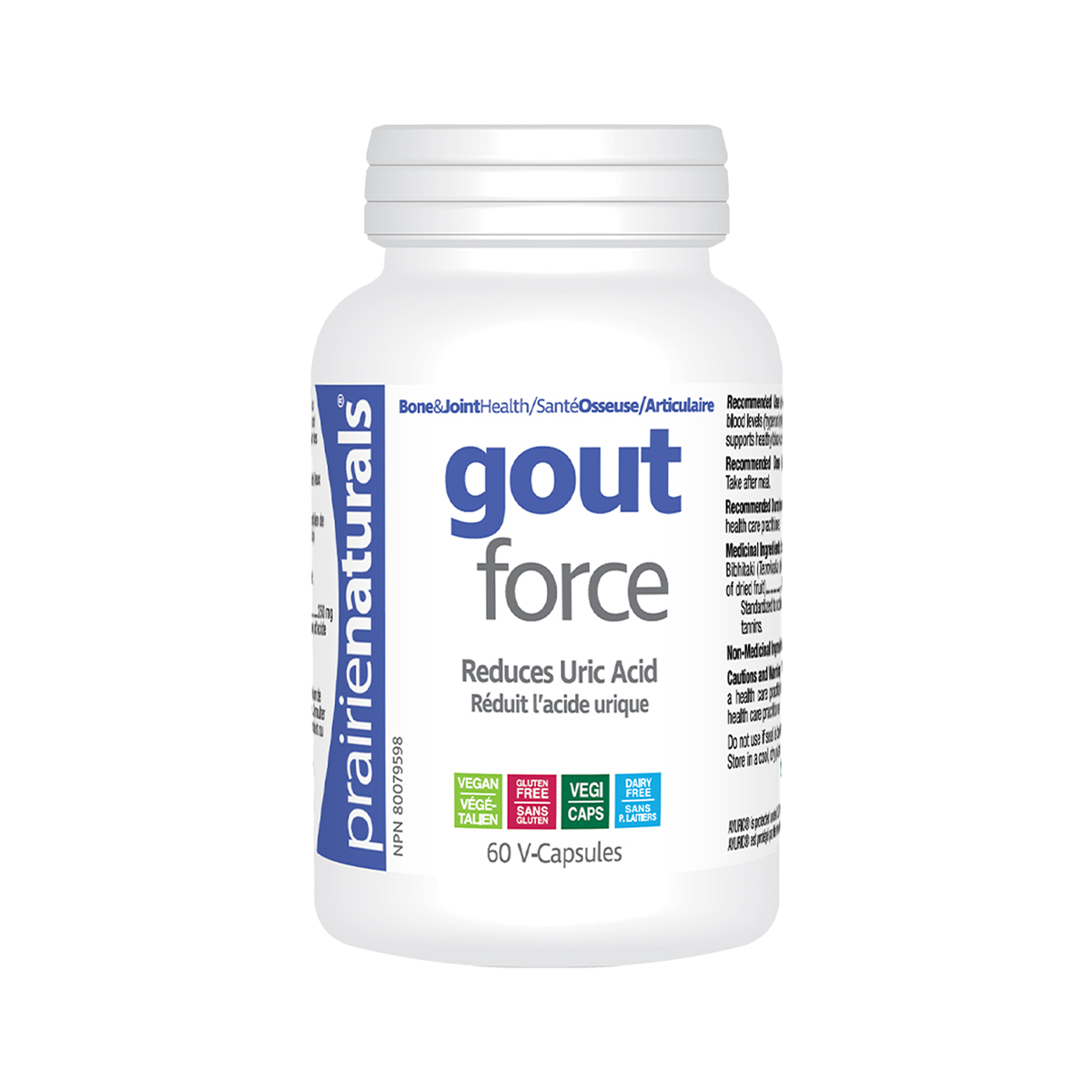 Prairie Naturals Gout-Force 60 V-Capsules
Sale price
$298
Regular price
$298
Unit price
per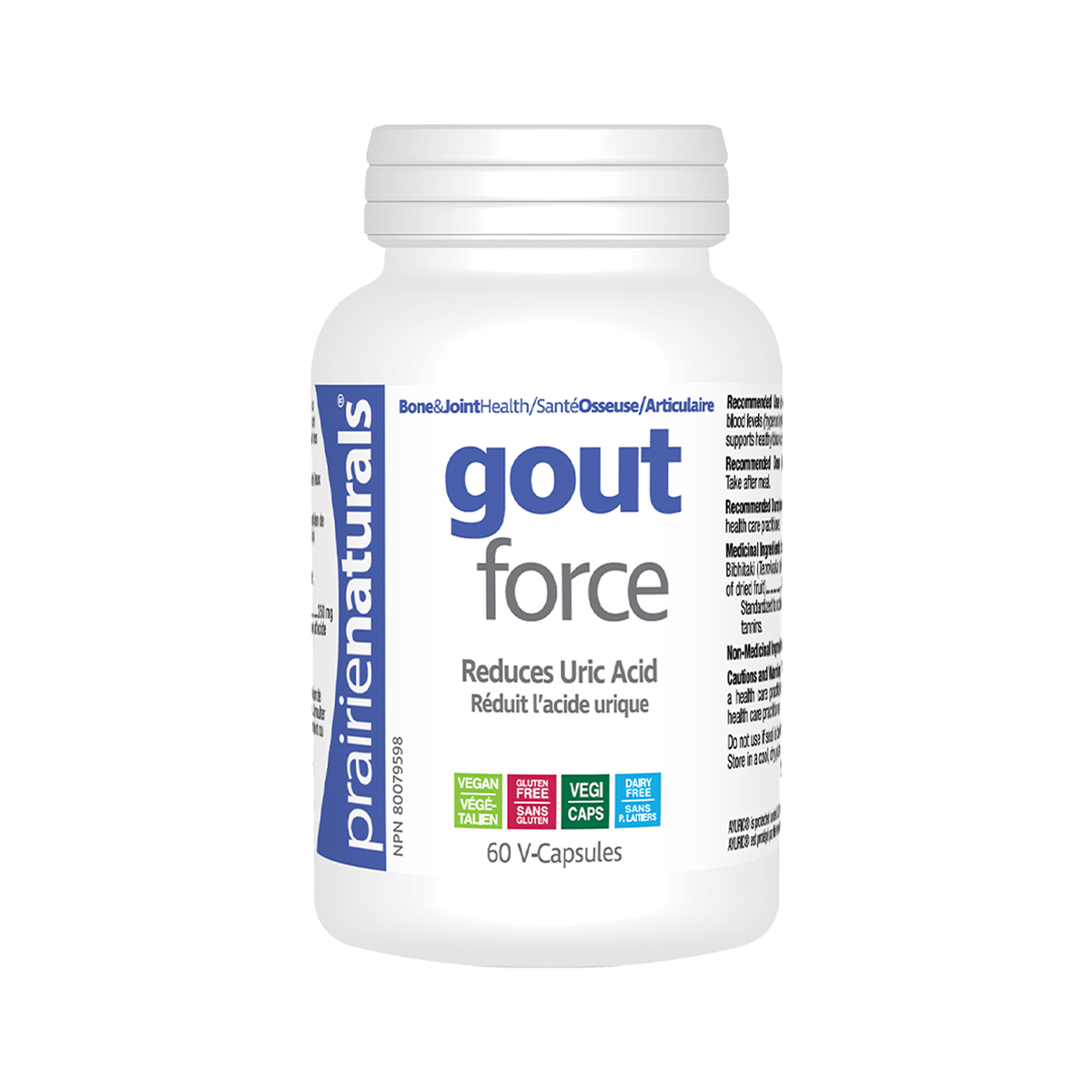 Prairie Naturals Gout-Force 60V-Capsules
Gout-Force uses clinically studied Ayuric®, a fruit from the ancient Ayurvedic plant, Terminalia bellerica, that's shown to help support healthy uric acid levels. Clinical research has been shown a tannin-rich extract from the edible fruit of Terminalia bellerica helps keep derived uric acid levels within a healthy range. This patent-pending, standardized extract from T. bellerica is a powerful botanical for uric acid support that inhibits the xanthine oxidase enzyme, thus controlling uric acid synthesis.
What is Gout:
Gout is a form of arthritis caused by the accumulation of uric acid crystals in joints.
Uric acid is a natural waste product that forms when the body breaks down purines, which are found in certain foods and are also produced by the body.
When uric acid levels become too high, the crystals can precipitate in joints and other tissues, leading to inflammation and intense pain.
Approximately 681,000 (2.4%) Canadians aged 20 years and older had been diagnosed with gout in recent years. The prevalence and incidence of diagnosed gout generally increase with age and are higher among males.
Gout symptoms:
Sudden onset of intense joint pain.
Most commonly affects the big toe, but can also target other joints like ankles, knees, wrists
Joint becomes swollen, red, and extremely tender
Pain often described as sharp, excruciating, and throbbing
Limited range of motion in the affected joint due to pain
Discomfort and sensitivity persist even without movement
Attacks tend to occur at night or early morning
Recurrent episodes of pain and inflammation
Potential fever during acute attacks
Joints can feel warm to the touch
Prairie Naturals Gout-Force Features:
Formulated with clinically proven, patent-pending Ayuric®
Gluten-free, Non-GMO, Vegan
Fast Acting (as little as 2-3 days)
Maximum benefits at 16 weeks
Who is Gout-Force for?
For all adults, although men are more likely to develop gout earlier — usually between the ages of 30 and 50.
AYURIC® is protected under US Patent No. 9,750,778 and is a registered trademark of Natreon, Inc.
Product Benefits
Helps to reduce elevated uric acid blood levels (hyperuricemia)
Terminalia bellerica, an ancient Ayurvedic plant, is a tannin-rich extract that has been shown in a clinical study to help keep uric acid levels within a healthy range
A combination of Chebulinic acid + chebulagic acid + tannins derived from T. bellerica extract inhibits the xanthine oxidase enzyme, thus modulating uric acid synthesis
Contains a clinically studied botanical ingredient with antioxidant properties
Supports a healthy inflammatory response
How to use
Recommended Use or Purpose: Helps reduce elevated uric acid blood levels (hyperuricemia), which is an underlying cause of gout. Helps supports healthy blood uric acid levels.
Recommended Dose (Adults): Take 2 V-Capsules, twice daily.Take after meal.
Recommended Duration of Use: For use beyond 24 weeks, consult a health care practitioner.
Cautions and Warnings: If you are pregnant or breastfeeding, consult a health care practitioner. If symptoms persist or worsen, consult a health care practitioner.
Do not use if seal is broken. Keep out of reach of children.
Store in a cool, dry place.
List of Ingredients
Medicinal Ingredients: Each V-capsule contains:
Bibhitaki (Terminalia bellirica 3.330:1 extract equivalent to 832.5 mg of dried fruit).....250 mg
Standardized to contain 15% chebulinic acid, chebulagic acid and tannins.
Non-Medicinal Ingredients: Hypromellose