Skip to content
為慶祝網站及會員計劃革新,「登記成為會員 」可享有購物積分,和日後會員專屬購物優惠。於本網站單一訂單購買滿HKD500,免香港本地順豐運費。
Register as our member can enjoy shopping points and exclusive shopping offers in the future. Free Hong Kong local SF Express shipping for single order purchase over HKD500 on our website.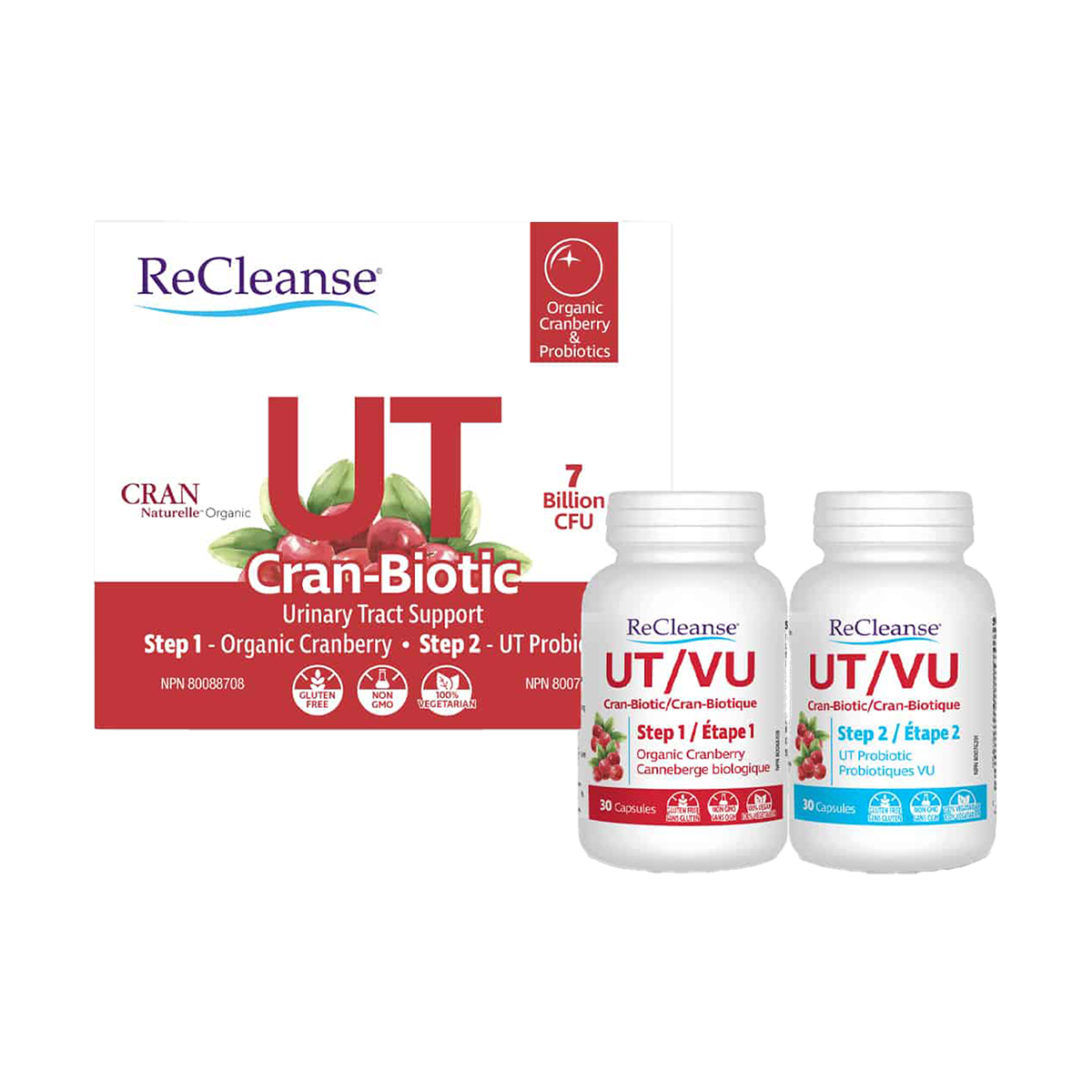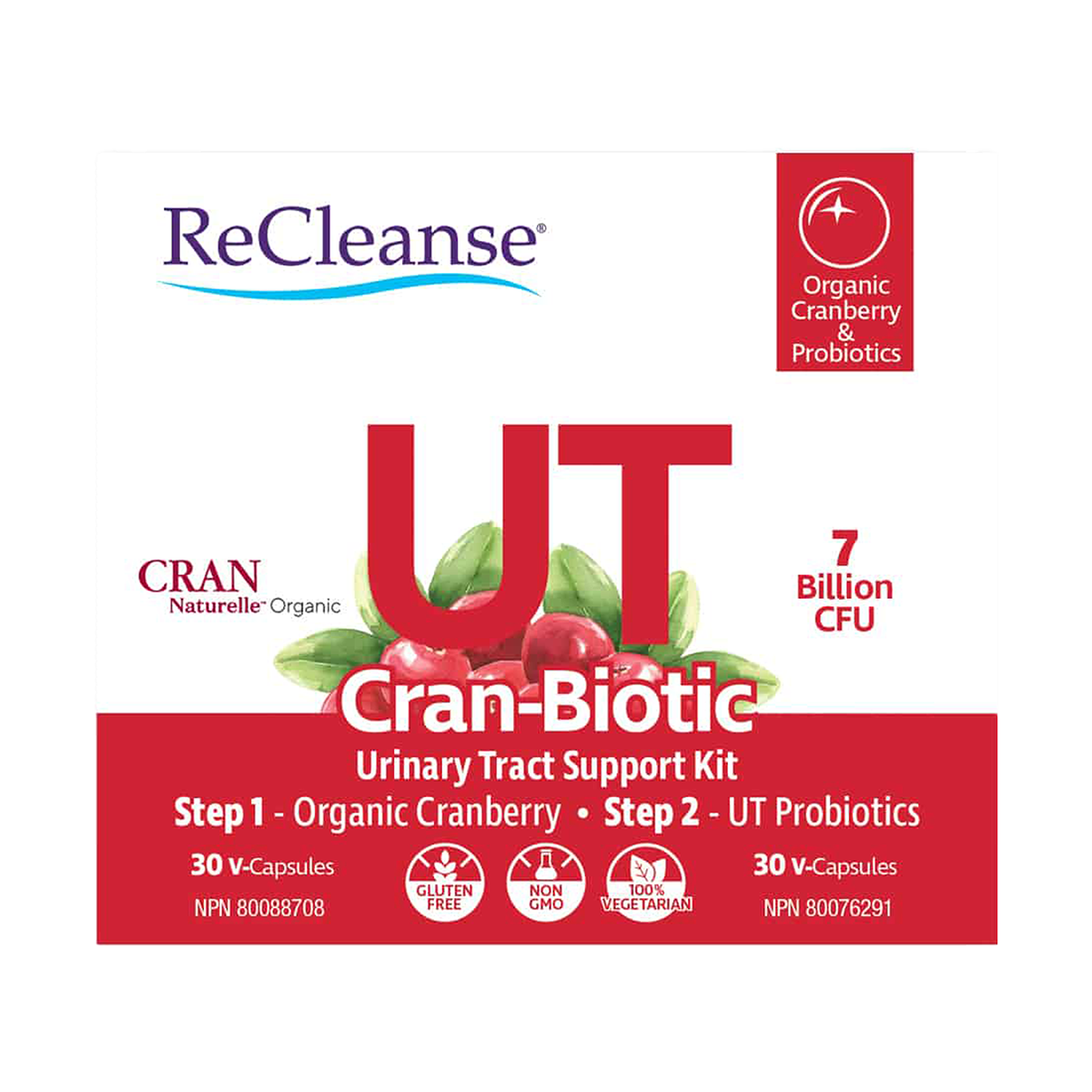 *特別限量產品* Prairie Naturals ReCleanse ® UT Cran-Biotic Kit -蔓越莓益生菌限定套裝(女性私密救星,提升女性私密處免疫力,預防尿道炎,提升腸胃健康,抗氧化)
Sale price
$388
Regular price
$588
Unit price
per
Prairie Naturals ReCleanse UT Cran-Biotic Kit
NEW ReCleanse UT Cran-Biotic Urinary Tract Support Kit combines high-quality probiotics with organic cranberry for urinary tract protection. The Organic Cranberry (Step 1) and UT Probiotic (Step 2) work synergistically to reduce E. coli infections, a common cause of UTIs. The combination of Step 1 and 2 offers first-rate support for vaginal, digestive, immune health and, urinary tract health.
Features:
5 patented Lactobacillus strains from Danisco, a world leader in probiotic research
High potency with 7 billion CFUs per capsule
Danisco's unique and patented stabilization technology provides high tolerance to gastrointestinal conditions (acid and bile)
Probiotic strains are manufactured using a patented preservation system for stability without the (need for) refrigeration, ensuring shelf stability.
With organic cranberry juice powder, D-Mannose, and the prebiotic FOS
30 servings per bottle
Step 1 Organic Cranberry 500mg – 100% all-natural organic whole cranberry concentrate.
Step 2 UT Probiotic 7 billion CFUs – 5 highly-researched and potent probiotic strains.
Simply take 1 capsule per day of each Step.
Organic Cranberry capsules
We use only Organic Cran NaturelleTM, whole fruit cranberry powder grown and made in Canada. Organic Cran Naturelle capsules is the next generation cranberry ingredients delivered from 100% all-natural whole cranberries.
UT Probiotic 7 billion CFUs
Lactobacillus probiotics are a specialized group of beneficial bacteria which reside in the gastrointestinal tract and provide numerous health benefits. These microorganisms help to maintain a healthy intestinal pH, prevent the growth of pathogenic bacteria, fortify the immune system, protect the vagina from infection and contribute to a natural, healthy gut and vaginal flora.
Prairie Naturals' UT Probiotic Capsules deliver a high potency blend of Lactobacillus probiotics designed to support optimal immune health over the long term and are especially targeted toward gut and urinary tract health.
Product Benefits
Supports gastrointestinal and immune health.
Helps re-establish healthy levels of beneficial Lactobacillus bacteria in the GI tract.
Inhibits growth of harmful bacteria such as coli which can cause infection
May prevent recurrent urinary tract infection.
Reduces oxalate depositions and may prevent kidney stone formation.
Improves overall urinary tract and kidney health in both females and males.
For females, Lactobacillus strains supports a healthy vaginal ecosystem.
How to Use
Step-1 Organic Cranberry
Recommended use or purpose: Traditionally used in herbal medicine to help prevent urinary tract infections (UTIs). Source of antioxidant for the maintenance of good health.

Recommended dose: Adults: Take 1 capsule a day. Use for at least 4 weeks to see beneficial effects.

Cautions and Warnings: Consult a health care practitioner prior to use if you are taking blood thinners or if you have a history of kidney stones. Consult a health care practitioner if symptoms persist or worsen. Store in a cool dry place. Keep out of reach of children.

Step-2 UT Probiotic
Recommended use or purpose: Used in Herbal Medicine to help prevent (recurrent) urinary tract infections (UTIs). Provides antioxidants for the maintenance of good health.

Recommended dose: Adults: 1 capsule daily

Cautions and Warnings: Consult a health care practitioner prior to use if you have fever, vomiting, bloody diarrhea or severe abdominal pain; or if you are taking blood thinners; or if you have a history of kidney stones. Consult a health care practitioner if symptoms persist or worsen. If symptoms of digestive upset (e.g. diarrhoea) occur, worsen, or persist beyond 3 days, discontinue use and consult a health care practitioner. Contra-Indications: If you have an immune-compromised condition (e.g. AIDS)
List of Ingredients
Step-1 Organic Cranberry
Medicinal Ingredients:

Organic cranberry whole fruit powder (36:1) (Vaccinium macrocarpon).... 500mg

equivalent to 18g of fresh cranberries

Non-Medicinal Ingredients: Hypromellose

Step-2 UT Probiotic
Medicinal Ingredients:

Lactobacillus acidophilus - La-14..................................................1.0 billion cfu

Lactobacillus paracasei - Lpc-3 ....................................................1.0 billion cfu

Lactobacillus plantarum - Lp-115 .................................................2.5 billion cfu

Lactobacillus rhamnosus - Lr-32...................................................1.0 billion cfu

Lactobacillus salivarius - Ls-33.....................................................1.5 billion cfu

Organic cranberry fruit juice powder (Vaccinium macrocarpon) ............... 500mg

D-Mannose (source Beech/Birch wood).................................................. 100mg

Fructooligosaccharides (Cichorium intybus root) ....................................... 30mg

Non-Medicinal Ingredients: Maltodextrin (Non-GMO, Gluten-Free), magnesium stearate, hypromellose
ReCleanse ® UT Cran-Biotic Kit 
Prairie Naturals全新產品ReCleanse UT Cran-Biotic,雙配方協同升效,Step-1有機蔓越莓膠囊Step-2 UT益生菌膠囊,簡單兩步提升你的私密處、消化、泌尿道免疫力,預防泌尿道感染!
【產品優點】
平衡胃腸道菌群,提升免疫力:
• 幫助增加胃腸道益菌數量。
• 抑制會引起感染的有害細菌(如大腸桿菌)生長。
改善整體泌尿道和腎臟健康:
• 預防泌尿道反復感染。
• 改善女性私密處生態健康。
• 減少草酸鹽沉積,預防腎結石形成。
ReCleanse UT Cran-Biotic雙配方,簡單兩步助你告別私密煩惱。
每樽30粒
Step-1有機蔓越莓膠囊:
• Cran NaturelleTM有機蔓越莓粉:100%由加拿大種植和製造的全果蔓越莓粉,含特殊A型前花青素PACs,可以降低尿液的PH值、預防大腸桿菌附著於泌尿道黏膜,有助預防泌尿道感染。
Step-2 UT益生菌膠囊:
精選5種星級乳酸菌菌株,菌株專利來自益生菌研究領域著名學者丹尼斯克(Danisco):
• 有助於維持健康的腸道pH值,防止致病菌生長
• 增強免疫系統,保護陰道免受感染,並有助於維持健康的腸道和陰道菌群。
• 高耐酸性:經獨特的專利技術處理,菌株更耐受胃腸道的高酸性環境。
• 高耐溫性:採用專利技術,令菌株在常溫環境下亦可保持穩定性,無需冷藏。
• 每粒膠囊含高達70億CFU
益生菌搭配益生原,產生協同作用,益生菌的功能再放大:
• 果寡醣(益生原):幫助腸道益菌生長,並促進腸道蠕動、幫助排便,維持腸道健康。
搭配女性私密處防護成分D-甘露糖,防護力升級:
• D-甘露糖:預防壞菌附著在黏膜,幫助維持女性私密處清爽,近年來備受歐美女性青睞。
【如何使用】
• Step-1 有機蔓越莓膠囊:
推薦用途或目的:用於幫助預防泌尿道感染及補充抗氧化劑,維持身體健康。
建議劑量(成人):每天服用1粒。至少使用4週才能看到益處。
注意事項與警告:如果您正在服用血液稀釋劑或有腎結石病史,請在使用前諮詢醫生意見。如果症狀持續或惡化,請諮詢醫生意見。請儲存在陰涼/乾燥且兒童接觸不到的地方。
• Step-2 UT益生菌膠囊:
推薦用途或目的:用於幫助預防泌尿道感染及補充抗氧化劑,維持身體健康。
建議劑量(成人):每日服用1粒。
注意事項與警告:如果您出現發燒、嘔吐、血性腹瀉或嚴重腹痛,請在使用前諮詢醫生意見;如果您正在服用血液稀釋劑或有腎結石病史,請諮詢醫生意見。如果症狀持續或惡化,請諮詢醫生意見。如果出現消化不良症狀(例如腹瀉)、惡化或持續超過3天,請停止使用並醫生意見。
禁忌症:免疫功能低下的疾病(例如愛滋病)
【成分清單】
• Step-1 有機蔓越莓膠囊:
藥用成分:
有機蔓越莓全果粉(36:1)................................................................................500毫克
相當於18克新鮮蔓越莓
非藥用成分:羥丙基甲基纖維素
• Step-2 UT益生菌膠囊:
藥用成分:
嗜酸乳桿菌- La-14.........................................................................10億菌落形成單位
副乾酪乳桿菌- Lpc-3.....................................................................10億菌落形成單位
植物乳桿菌- Lp-115.......................................................................25億菌落形成單位
鼠李糖乳桿菌- Lr-32......................................................................10億菌落形成單位
唾液乳桿菌- Ls-33..........................................................................15億菌落形成單位
有機蔓越莓果汁粉..........................................................................................500毫克
D-甘露糖(來源山毛櫸/樺木).....................................................................100毫克
果寡醣................................................................................................................30毫克
非藥用成分:麥芽糊精(非基因改造、無麩質)、硬脂酸鎂、羥丙基纖維素